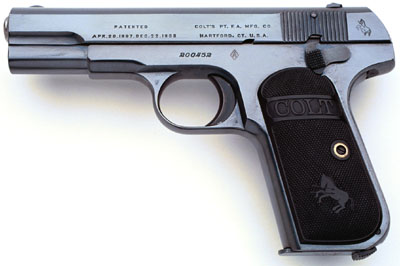 1903 Colt Model M .32 Belgian Contract serial number 200,452 circa. 1916 - marked with the Diamond "A" proof mark on the left side of the frame behind the serial number. This pistol was part of a World War I contract between Colt and the Belgian government to supply Belgium with a large number of Colt Model M pistols in .32 caliber. A notation in the Colt shipping books indicates that these pistols were marked with an "A" in a diamond shaped box. This pistol was one of 1200 shipped to the Government of Belgium on March 8, 1916.
Colt Model M Tin Shipping Box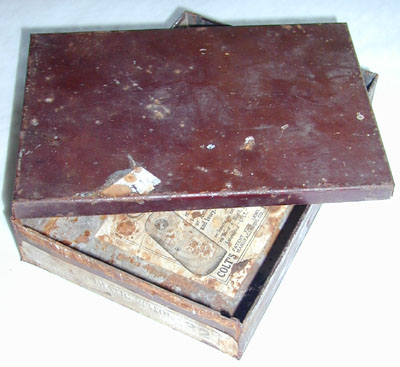 Tin Shipping Box - In 1915, Colt's used a tin two piece shipping box for some overseas (Belgian) and domestic shipments. The boxes were painted maroon (to resemble the standard cardboard hinged shipping box) and contained the standard labels of the day. The end label extended under the bottom of the box so that the serial number could be hand written in the standard location.