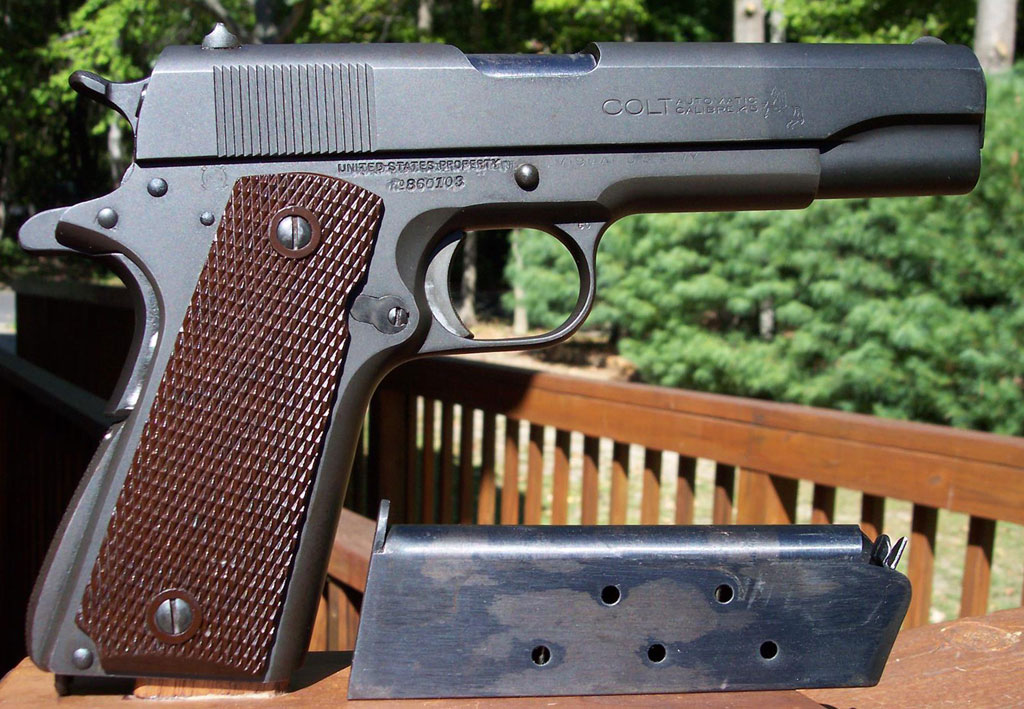 R. DiFlorio Collection
Colt Model 1911A1 .45 ACP Serial Number 860103 - One of 6,575 unsold commercial Government Model pistols transferred by Colt to their existing Military contract (No. W-478-ORD-1528). The GOVERNMENT MODEL inscription on the frame was removed and was restamped UNITED STATES PROPERTY in its place and M1911A1 U.S. ARMY in front of the pin for the takedown lever. The commercial serial numbers were removed and they were renumbered in the military serial number range beginning with number 860003. Then the guns were parkerized.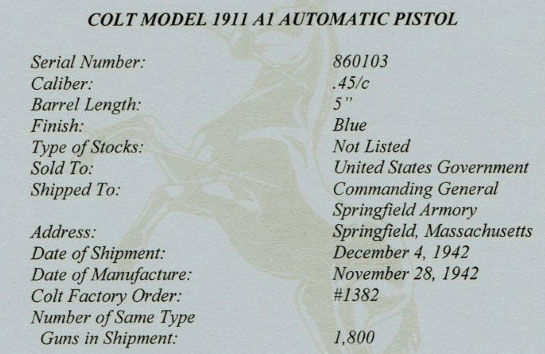 Colt Model 1911A1 .45 ACP Serial Number 860103 -Factory letter documents this pistol as being sold to the United States Government, shipped to Commanding General, Springfield Armory, Springfield Massachusetts on December 4, 1942. It was one of 1,800 guns in shipment and was processed on Colt Factory Order number 1382.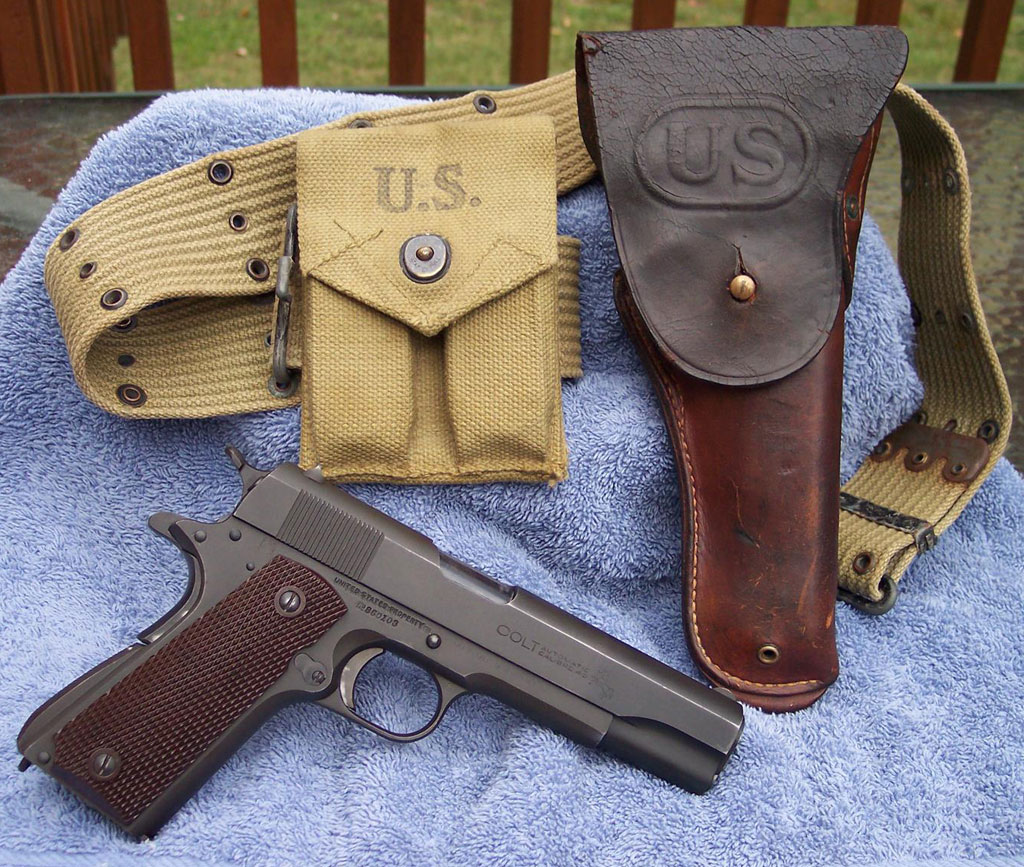 This pistol was manufactured with the Swartz Safety (which was a firing pin block safety added to Government Model pistols around 1938) but the internals have been removed upon conversion to the military contract. This pistol also has the letter S (the commercial sale mark) stamped inside the slide and frame.
There is a P proof on the top of the slide, in front of the rear sight and alto a P on the left side of the frame near the magazine release button. The barrel in this gun is a commercial barrel marked COLT .45 AUTO on the left side, with the commercial sale mark S in front of the barrel lug on the underside of the chamber. There is no P on the left lug.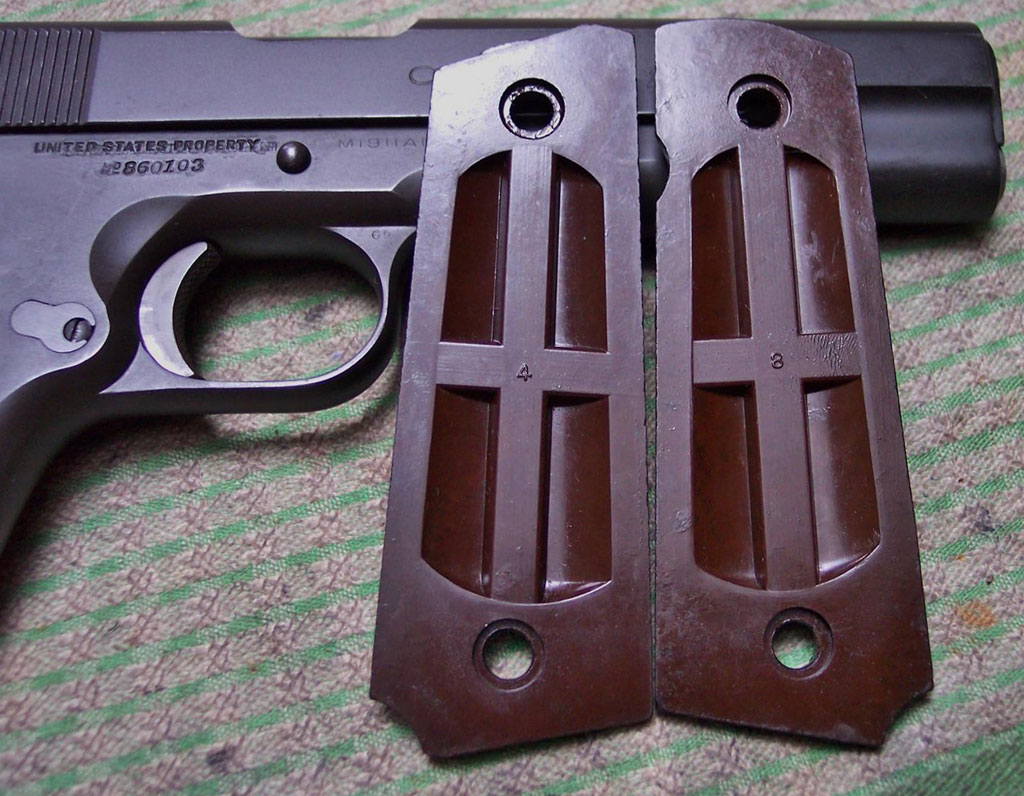 Gun has Type 2 Coltwood plastic grips with strengthening ribs, mold numbers and large reinforcing rings around screw holes.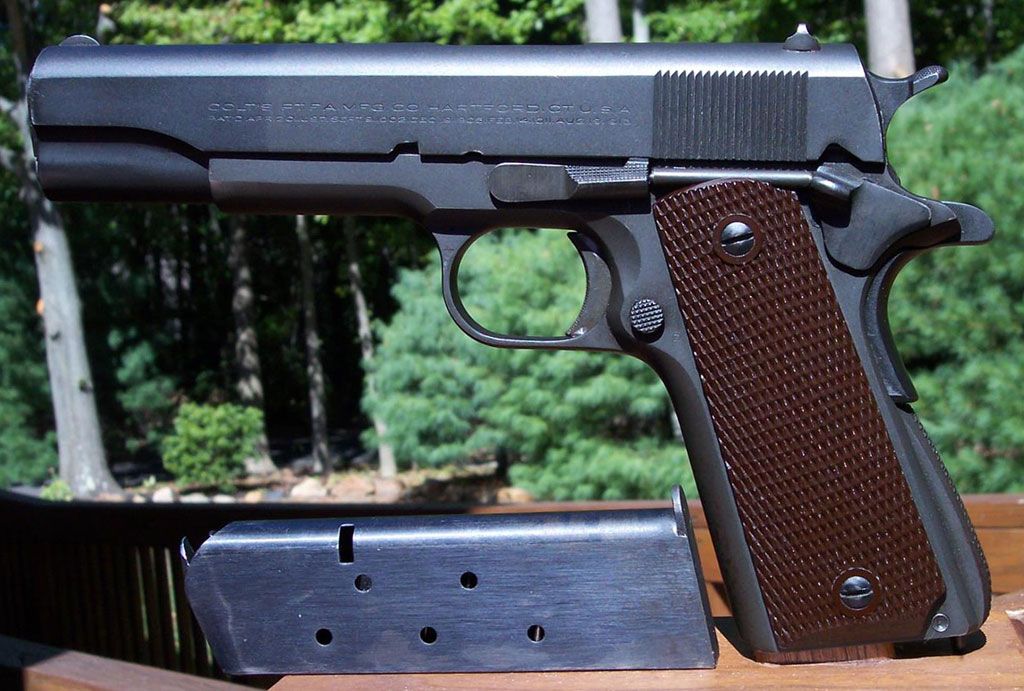 Colt Model 1911A1 .45 ACP Serial Number 860103 (Left Side) - "G.H.D." inspected and "P" proofed on left side of the frame.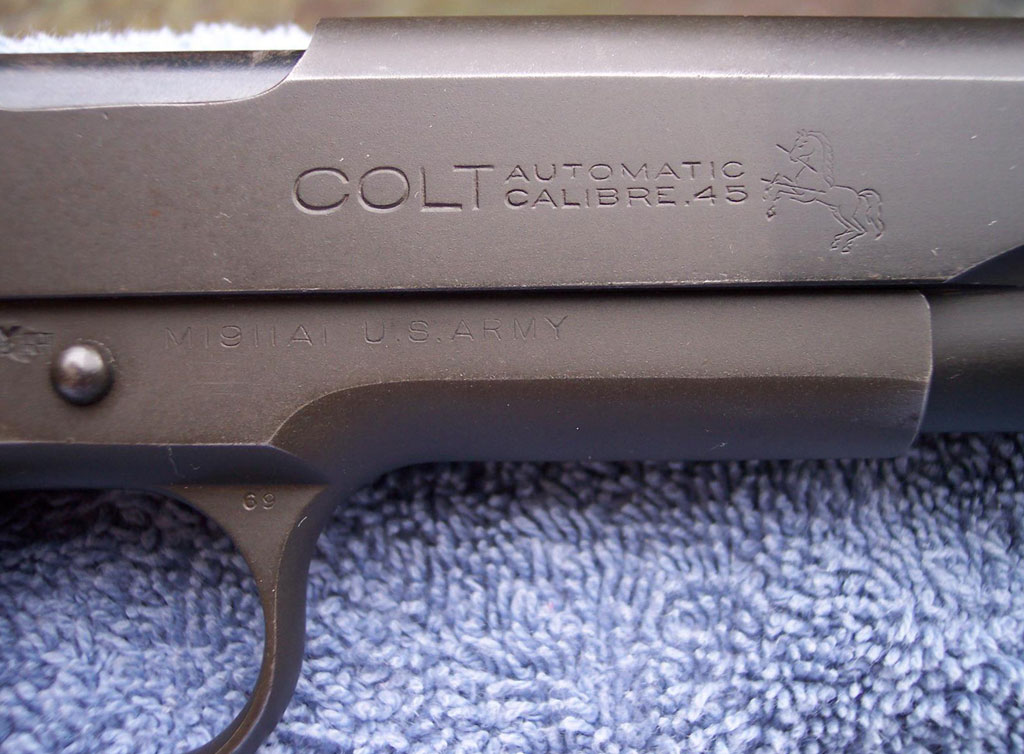 Commercial slide marking on right side of slide.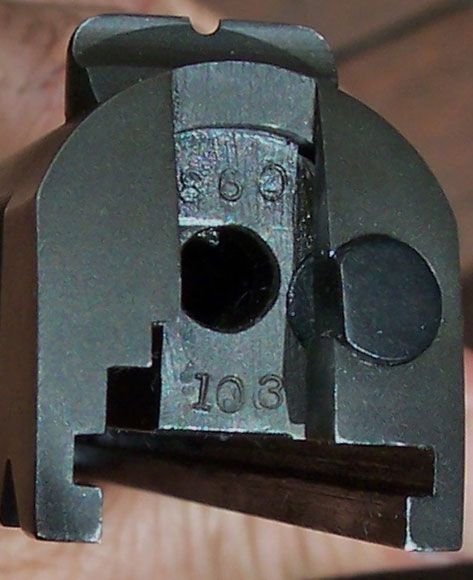 Slide is numbered to the frame.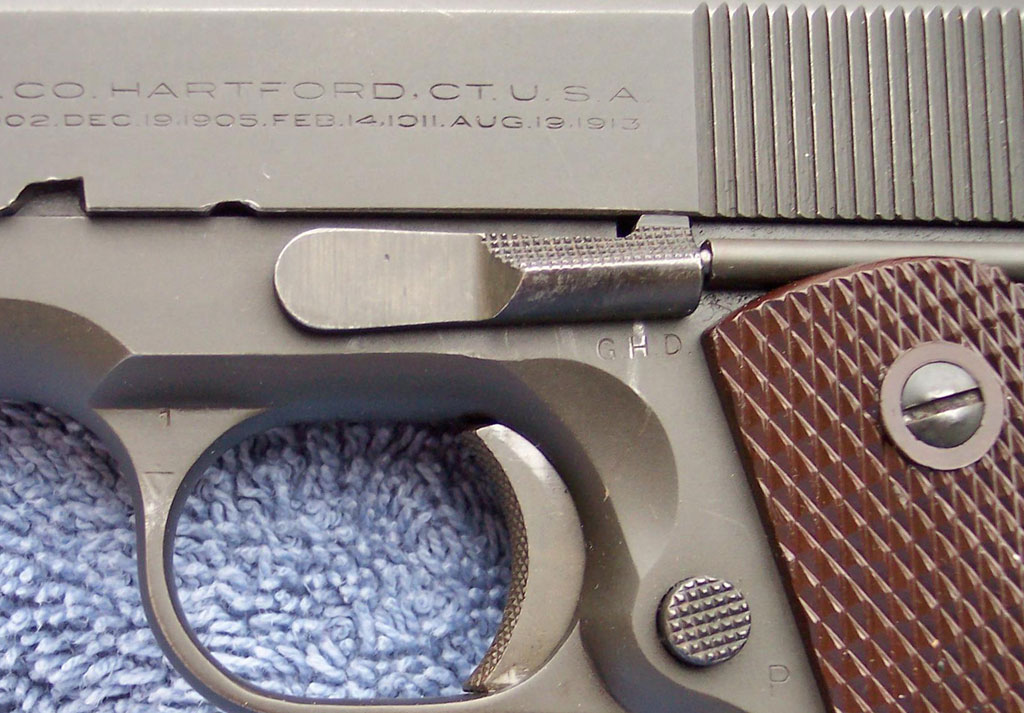 G.H.D. - Inspected by Ordnance Inspector Brig. General Guy H. Drewry, Springfield Ordnance District, Army Inspector of Ordnance June 17, 1942 - July 15, 1945, 1911A1 Pistols serial numbers 845000 - 2360600 (approx.) (Some in the 860003 - 860500 rage are marked W.B.)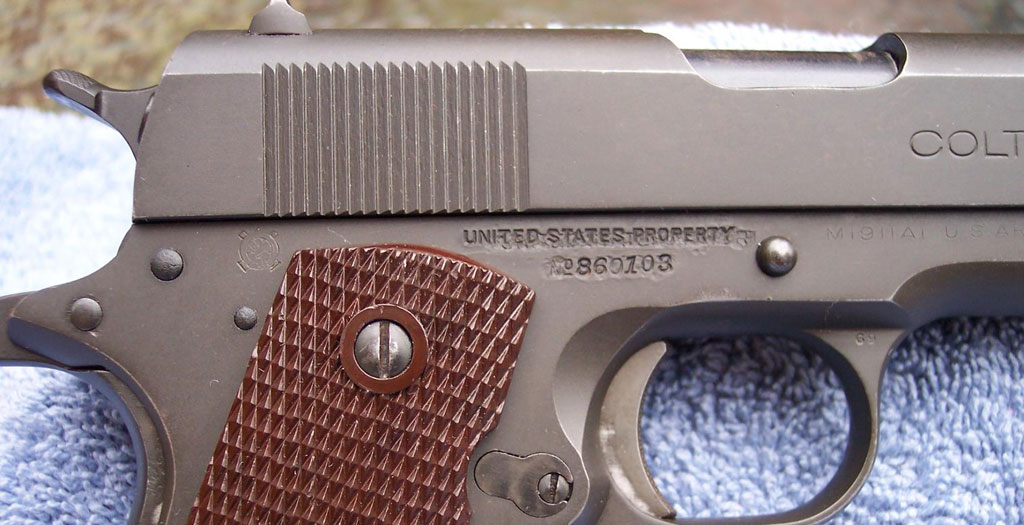 Colt Model 1911A1 .45 ACP Serial Number 860103 - ordnance wheel located behind the right grip. Visible are the rough machining marks which removed the "GOVERNMENT MODEL" and commercial serial number prior to renumbering the gun in the military serial number range.
Large "G" barrel.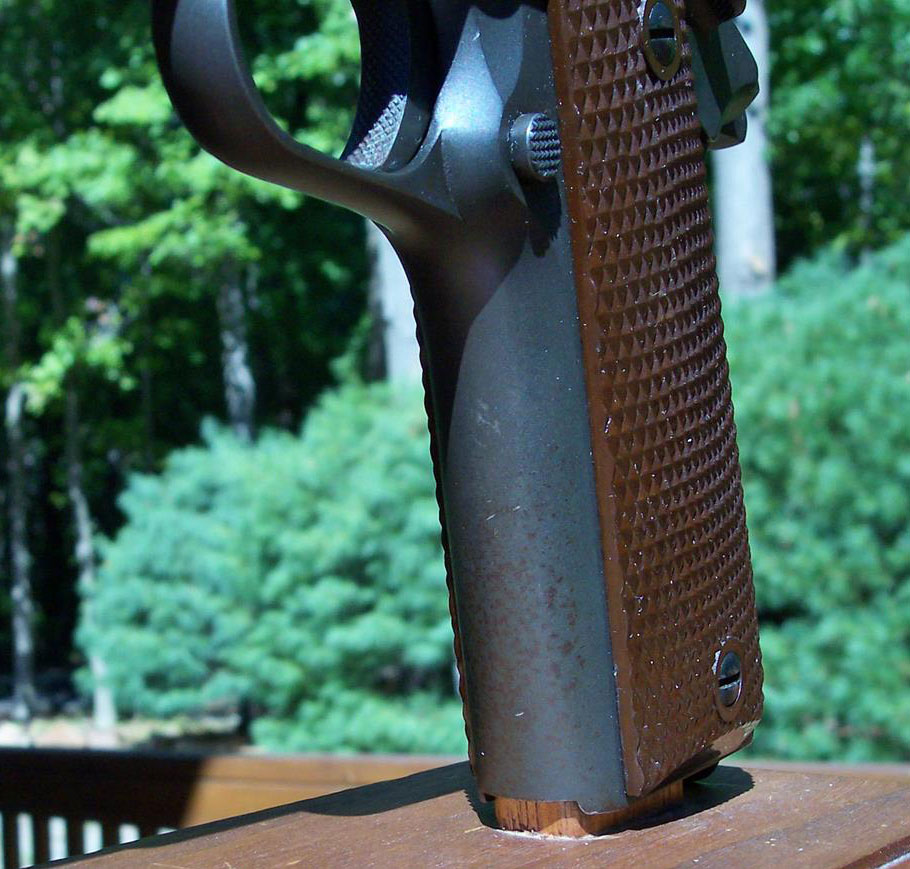 Front grip strap.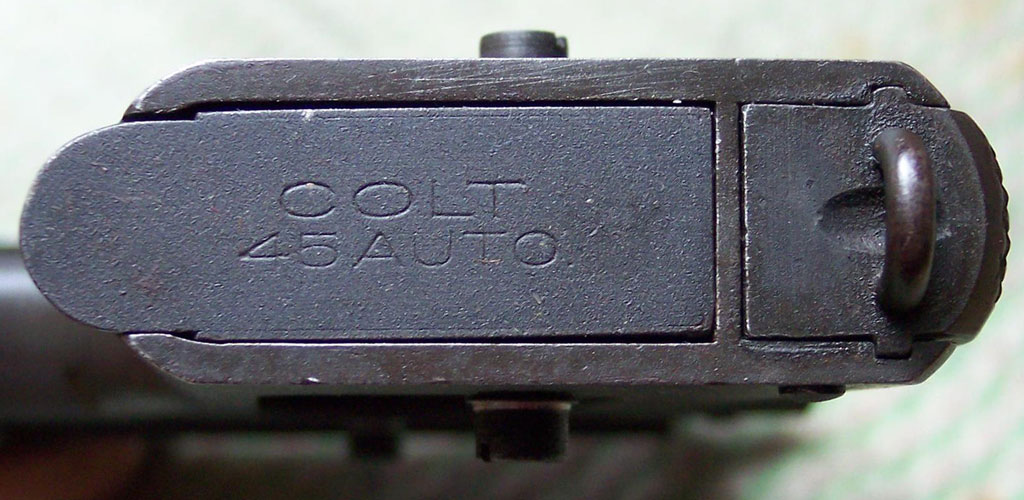 Commercial Government Model magazine that's been sandblasted ad then blued.